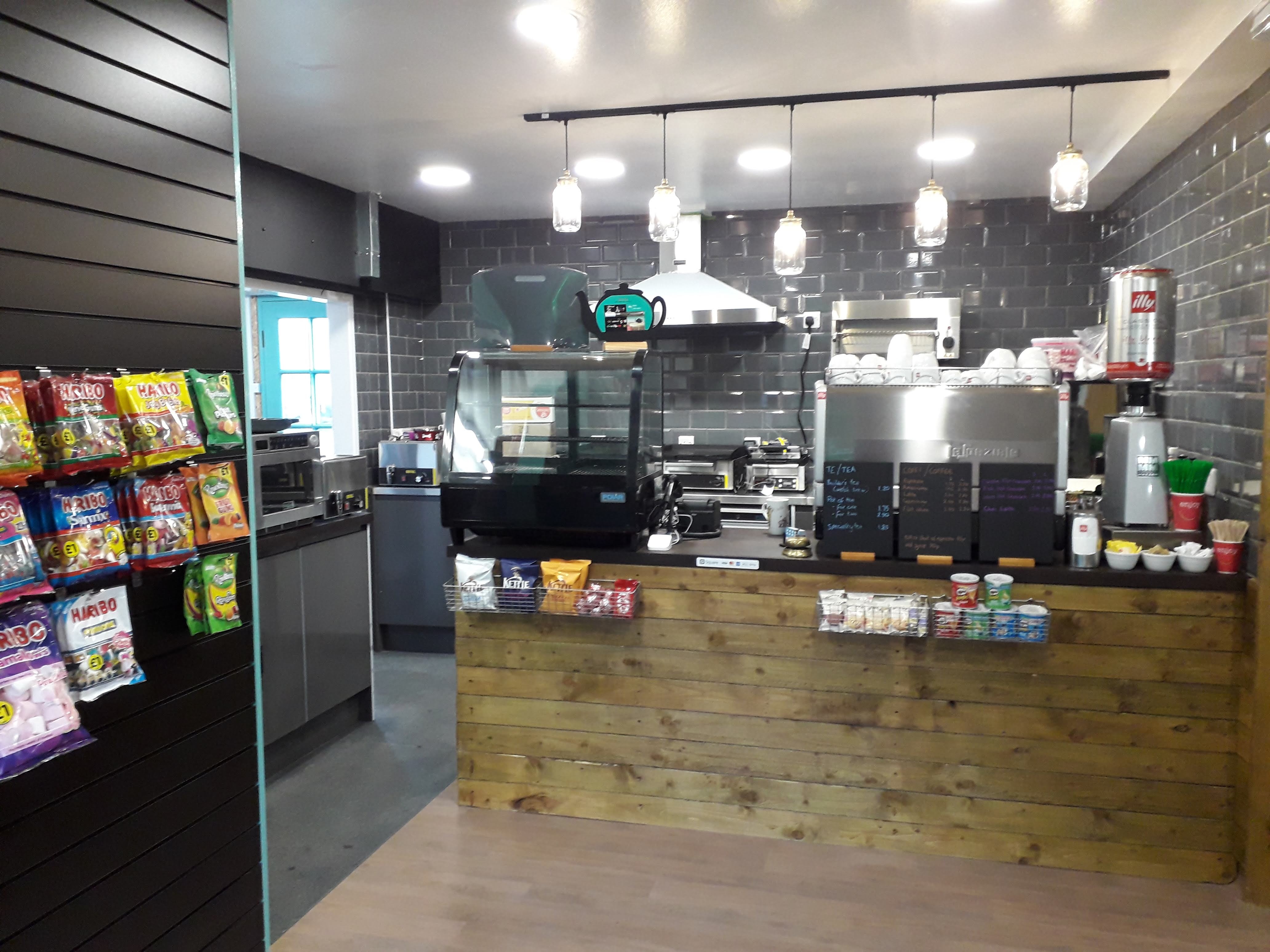 At Whistle Stop Cafe, we're passionate about great quality local food.
We're working closely with local food suppliers to bring you some of the best that Anglesey can offer.
You can choose to stay in the cafe or enjoy in our picnic area. If you can't stop, you can take away.
We have 4 types of cooked breakfast with veggie and gluten free options available too.
Weekday Brecwast (bacon, sausage, egg, beans, filter coffee or builder's tea) £4.50
Weekday Veggie Brecwast ( 2 x veg sausage, egg, beans, filter coffee or builder's tea) £4.50
Build your own Brecwast
(add on extras to your breakfast; bacon, sausage - 75p each, egg, beans, tomato, toast - 50p each)

Weekend Buffet Brecwast (Help yourself to what's available on the day - usually bacon, sausage, eggs, beans, hash browns, black pudding, mushrooms, tomatoes and toast with free refills of tea, coffee and orange juice) £8.00 per person
Baked Potato with butter £4.50 (half potato £3)
Add from a choice of fillings for an extra £1 (half 75p)
- Cheese, Beans, Cheese & Beans, Tuna Mayo, Cream Cheese.
Toasted Tea Cake £1.75
Waffle with Cream £1.75 (choice of syrups available)
Crepe with Cream £1.75
Baps and Sandwiches from £3.00
On white or brown bap or bread
Bacon, Sausage, Bacon & Sausage, Bacon & Egg, Sausage & Egg or just Egg only.
Paninis from £5.00
Cheese & Tomato, Cheese & Onion £5.00

Ham & Cheese £5.30

Tuna Mayo £5.75
Tuna Melt £6.00

Bacon, brie & cranberry £6.00
Cold Sandwiches From £2.75 (Half Sandwiches from £1.75)
Go toasted for 75p extra
On white or brown bread
Choose from: Jam, Cheese, Cheese & Tomato, Cheese & Onion, Ham, Ham & Tomato, Ham & Cheese, Tuna Mayo.
Toast with Butter/Flora* 50p
mall pot of jam/marmalade 50p
Beans on Toast £3.50/£4.25
Add cheese sprinkles 25p
Egg on Toast £3.50/£4.25
*Dairy free spread available
Choose from our wide selection of cakes, including Cupcakes and home made cakes from £1. Gluten free cakes are available too!
Cream Tea £4.50 per person.
Afternoon Tea
From midday we serve Afternoon Tea at £12.50 per person. Prior booking is required.

Prepared by our baristas, we have selected illycaffe, a high quality european coffee with an excellent reputation in the worldwide restaurant business. Choose an espresso based drink from £1.85 or a filter coffee for just £1.50.
ESPRESSO Single £1.85 Double £2.30
AMERICANO Small £1.95 Large £2.40
LATTE Small £2.50 Large £2.90
CAPPUCCINO Small £2.50 Large £2.90
FLAT WHITE Small £2.50 Large £2.90
MOCHA Small £2.75 Large £3.15
Note our Large sized coffee drinks contain 2 shots of espresso. A 1 shot large drink is available on request.
Add Shot of Syrup for 30p (Caramel, Cinnamon, Gingerbread, Hazelnut, Vanilla)
Builder's Tea (Welsh Brew) - £1.30
Pot of Tea - for one £1.85 for two £3.00
A wide range of speciality teas are available at £1.95, including mint teas, fruit teas, ginger teas and green teas. There's also Earl Grey too!
We have a range of Fridge Drinks available including:
Fruit Shoot 80p, Cans from 90p, J20 £1.50, Fentiman's £1.75. Bottled water £1
We have a range of high quality hot chocolates that are receiving a fantastic response! Choose from Classic, Rich or White. Small £2.00, Large £2.50. Add cream and marshmallows for just 30p.

We also do a deliciously spicy Chai Latte too from £2.00